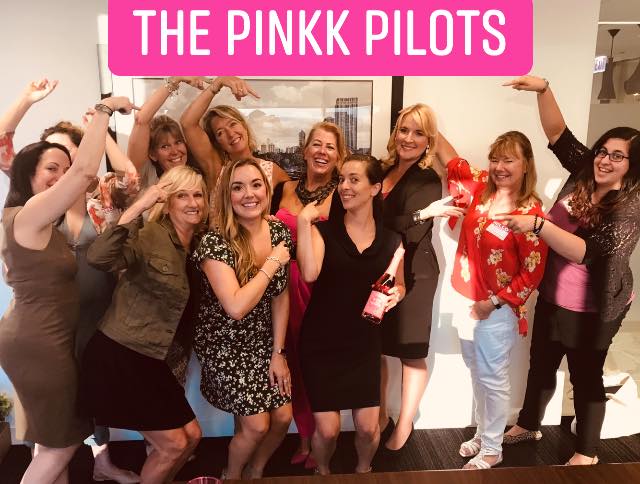 As the Founder of PINKK, I am committed to making this a successful program for all this year. We are all in this together and committed to community support.
The ongoing pandemic and recovery reinforces our very real need for kind leadership and to be there for our community during these challenging times. It also further supports the PINKK mission of women supporting women from all walks of life. It matters.
Knowledge and Kindness are two key tenets of PINKK that are needed now more than ever. We hope YOU can be a part of our community. We have thoughtfully evaluated all and we will once again move forward and launch our program to meet the needs of our community. We will be agile and adapt as we need to with virtual, on line or other accommodations and management as deemed appropriate. Of course, the well-being of our community is our first priority as always. This is no different.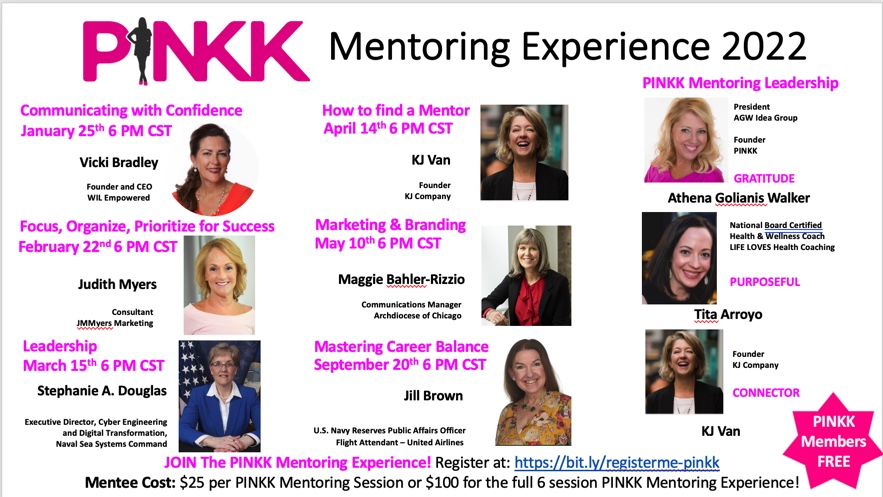 YOU can BE ANYWHERE and do this. We are expanding our reach and will accommodate all locations to be of service right now!
2022 PINKK Mentoring Experience

We are excited to announce the 2022 PINKK Mentoring Experience

Building on our success and all your amazing feedback we will be offering PINKK Mentees the opportunity to learn from multiple mentors while providing the community feel that has been so successful in our prior programs.

Mentors will share stories, experiences, and insights with multiple Mentees

There will be opportunities to connect mentors and mentees 1:1 based on feedback and interest from each PINKK Mentoring Experience Sessions.
Below we are announcing each session's mentors, topic and date.

All are 6:00 – 7:00 CST on Tuesday's.
See links below for each to learn about each mentor leader.
Communicating with Confidence: Vicki Bradley: January 25th, 2022
Focus, Organize, Prioritize for Success: Judith Myers: February 22nd, 2022
How to find a mentor: KJ Van :April 12th, 2022
Marketing/Branding: Maggie Bahler Rizzio :May 10th, 2022
Mastering Career Balance: Jill M. Brown: September 20th, 2022
NOTES

Register https://bit.ly/registerme-pinkkFor more information contact PINKKMENTORING@gmail.com
Mentee Cost: $25 per PINKK Mentoring Session or $100 for the full 6 session PINKK Mentoring Experience
Upon acceptance additional course materials will be provided to guide the process.
The program is offered complimentary for PINKK members and for mentors. For mentees there is a $25 fee that will be due upon acceptance into the program. You can DONATE and make payment here: MENTORING DONATION
Note: Junior membership is $75 and student is $35 so if you fit that category it may be more cost efficient to join and get all the benefits of PINKK membership. JOIN US!!! BECOME A MEMBER TODAY!
We also will grandfather in mentees from our 2019 PILOT and 2020 Programs and we are prepared to offer scholarships for those mentees that are in need. *Please note that in your application and we will take all into account as we want to be of service to all as best we can right now.
It takes a community to do this. We are delighted that PINKK will again be partnering with KJ Van from KJ Company this year and with PINKK Founding Member, Tita Arroyo from Life Loves Health Coaching as assistant manager on the program once again! What a gift! We have amazing leadership and support for which we are grateful.
If you choose, the mentoring can be done remotely as we had varied cities involved in the pilot and can help guide the process.
Here is some useful information on that we wanted to provide in advance given the current environment. https://www.get.mentoringcomplete.com/blog/develop-your-mentoring-relationship-virtually
Please CONGRATULATE OUR RECENTLY PROMOTED MENTORING MANAGER: TITA ARROYO.
mycoach@lifelovesco.com
linkedin.com/in/tita-arroyo-68168431
National Board Certified Health and Wellness Coach, Functional Medicine Certified Health Coach at LIFE LOVES Health Coaching and Sr. Procurement Specialist at Intelsat. Tita's varied corporate career includes managing customer accounts for Emerson Electric, Mars Incorporated and currently Intelsat (formerly Gogo Commercial Aviation). Her true passion lies in cultivating a natural and healthy lifestyle while maintaining a positive mindset, and empowering others to do the same.
As a National Board Certified Health and Wellness Coach trained in Functional Medicine her mission is to empower and equip you with education and resources to help you take control of your health and make lasting change. Functional Medicine uncovers root causes to disease and allows your systems to function optimally through lifestyle changes in nutrition, sleep, exercise & movement, stress reduction and relationships. Her Health Transformation Program offers coaching, community and connection which are proven keys to accountability and long-term success. You can create a renewed, better, healthier version of yourself in as little as six weeks.
Tita stays active in the community as our PINKK Mentoring Manager and as Associate Board Member and Engagement Chair for Facing Forward to End Homelessness. She lives in Chicago with her energetic Boston Terrier/Boxer mix Moonpie.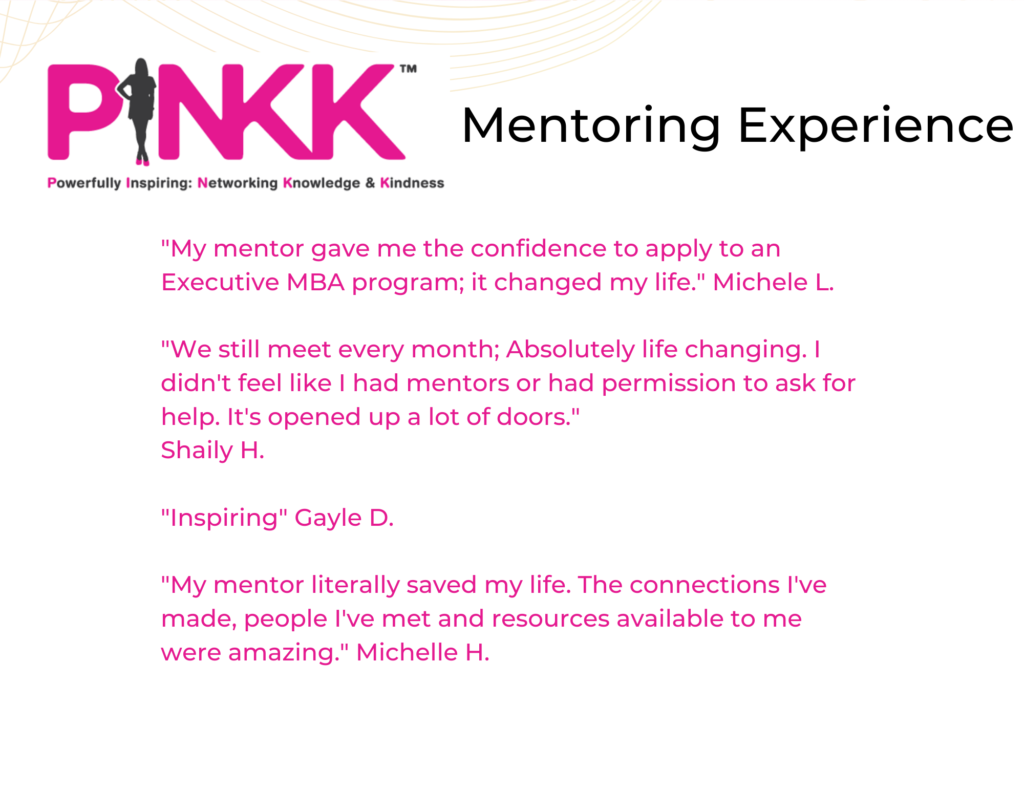 We are all in this together! WE LOOK FORWARD to another successful mentoring program. PINKK is committed to being a resource and community of knowledge, inspiration and kindness for all who need it, especially during these challenging times. Onward!
Let's do this together with kindness.
BE KIND & BE WELL!
DONATE TO PINKK:
https://www.paypal.com/donate?hosted_button_id=3TENJ5E3VJYTE
Let's do this together with kindness. If interested and need more information contact: PINKKmentoring@gmail.com or info@PINKKNOW.com
COACHING/ WEBINARS
See presentations from some of our webinars below: Also check the EVENTS PAGE for 2022 new events!
PAST Video recordings are for members in the PINKK TOOL KIT.
We will continue to offer FREE NEW online webinars. See events page for 2022!
We also conducted live on line coaching event on the Power of Intention on July 18, 2019, with certified coach Kathy McCabe. See below for a video clip and a sample PDF (full video and conference slides available to our members in our tool-kit):
Spread the word and we will grow and inspire together.
FUTURE ONGOING PLANS
We will connect women who have a demonstrated interest and want to develop and learn and grow their business and careers through a mentor or a coach. .www.nytimes.com/2018/09/26/smarter-living/why-mentoring-matters-how-to-get-started.html
Here are some additional thought starters : Is Something Off in Your Mentor-Mentee Relationship?
Don't know if you want mentoring or coaching, and what that looks like? Check this out to learn more: https://www.kjcompany.net/news/2018-12-29-do-i-need-a-mentor-or-a-coach