Stay up to date with all of PINKK's upcoming events
2020 VISION IN ACTION in PINKK Style
While our in-person events have been postponed until further notice, we are providing many webinars and other online "get-togethers" to support our PINKK community! 
We will continue to offer FREE NEW online webinars over next weeks.
J

oin us August 13, 5:30 – 7:00  ONLINE
for PINKK Educational Panel Event: Ending Racism
Now What?  Where Do We Go From Here to Stop Racism 
Systemic racism has long been an Issue in the U.S. and around the world.  Join us for an open dialogue about the obstacles and challenges African American women and men have experienced in their personal and professional lives.  And what we can do as a community to support our friends and colleagues who experience these racial discrimination's as we all travel our life-long journey.
A Panel Discussion With:
Jacalyn Ramdin-Johnson, MBA, Business Administration and Management, Lake Forest School of Management, Director, Consumer Marketing – Orphan Brands, Horizon Therapeutics
Andi Kramer, Northwestern University School of Law, Partner McDermott, Will & Emery and Author of Breaking Through the Bias & It's Not You It's The Workplace
Janie Young Davis, B.S. in Business, MBA Marketing, Purdue University, Vice President Definitive Health Partners
Lauren C. Martin – Master of Science and Communication, Northwestern University, Radio & News Assistant, WVON Radio, Host of the LWOO Show and Author of The 6-Step Plan: Rising to Greatness & Still On the Rise to Achieving Greatness
Moderator:  Nancy Reid, PINKK Member and Mentor, Business Development Specialist with a focus on marketing communications, social influencer, sales training and creative services.  Healthcare Businesswomen's Association, Midwest Region, President Regional Engagement Council, Past President of Chicago Women In Bio and Chapter Mentoring Chair. 
######
If you have ideas contact us and tell us what you have in mind to organize or lead or how you want to contribute and build our community
in 2020 together!
RECURRING ONLINE HAPPY HOURS:
Please join us for our PINKK Power Hour EVERY THURSDAY until end of May. We'll go from there and adapt as we learn from all of you.
We will connect casually for 30-45 minutes virtually with intent and heart.
Here is the simple and pure "agenda:"
Share one reason you are grateful right now and why, and/or
Share the one word that currently describes how you are showing up in the world right now
A anecdote to make us all smile or consider the possibilities
We will vary topics each week!
Wear PINK. Drink PINK. Think PINKK.
Be part of PINKK online!
See you on Thursdays!
Topic: PINKK Power Hour Share
Thursdays, 5:30 PM Central Time (US and Canada)
 July Dates: 7/23
August Dates: 8/6, 8/20.
Join Zoom Meeting
Meeting ID: 303 421 273
Password: Athena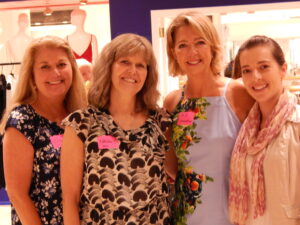 STAY TUNED FOR MORE INFORMATION ON THESE and all PINKK events!
We are looking for volunteers who want to contribute to these events.
Please note: MEMBERS are FREE and receive discounts for all offerings here! We VALUE our members!
POSTPONED EVENTS
POSTPONED: Join Athena on Wed, March 18th, from 9-10a.m. at the University of St. Francis for: Strong Coffee and Successful Women
R.S.V.P. by March 10th at stfrancis.edu/careers
We hope to see you there!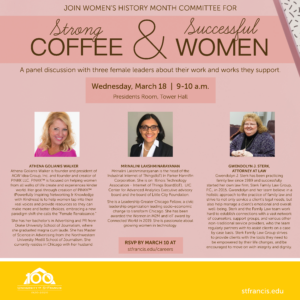 POSTPONED: March WOMEN'S History Month: Let's DO PINKK!
Park Hyatt Chicago: 800. N. Michigan Avenue
NoMi Lounge Private Wine Cellar
Thursday, March 26, 6-8 p.m.
Featuring: Complimentary Signature PINKK Drink
Created by Ashley Romero of Park Hyatt
& lite bites from NoMi Kitchen provided
Networking and book signing for Flying by the Seats of Their Skirts
Click here for tickets: https://bit.ly/2uVUnMY
Members FREE (and priority) | Guests: $40
POSTPONED:

PINKK COMMUNITY Networking Event in support of WHEW: Women Helping Women Wednesdays!
Wednesday, April 15, 7-10PM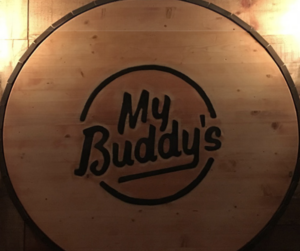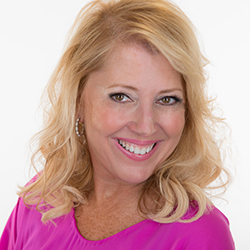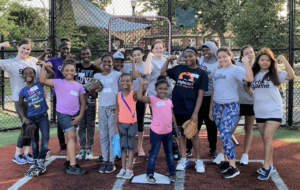 Followed by Stand Up for Women – all female stand up comedy show!
FREE TASTING from local woman owned Eris Cidery from 7-7:45PM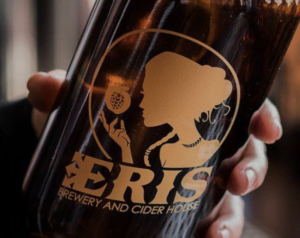 FUTURE EVENTS: 
PERSONAL BRANDING WORKSHOP:
Tell your story and build YOUR Brand Value prop:
Final dates and details TBD – led by Athena Golianis
PINKK PANEL INSPIRATION EVENT: Save the Date!
By popular demand this returns! Hear from amazing women that will inspire you with their journeys and stories.
Thursday, October 1, 5:30 – 8:00 pm (Discount for Members)
Nominations are being accepted in February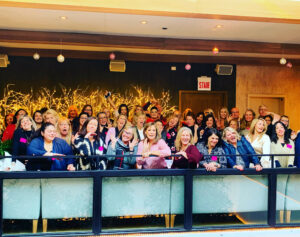 HOLIDAY KINDNESS LUNCHEON – SAVE THE DATE!
Our tradition continues because you asked. Thank you.
Tuesday, December 8, 12-2PM
(Discounts for Members)
LOOK for informal gatherings led my Michelle Lodl and other PINKK members starting in the spring!
If you have ideas, contact us and tell us what you have in mind! Let us know how you want to lead, organize, or contribute and build our community in 2020 together!
By entering and by your presence at PINKK events, you consent to be photographed, filmed and/or otherwise recorded. Your entry constitutes your consent to such photography, filming and/or recording and to any use, in any and all media throughout the universe in perpetuity, of your appearance, voice and name for any purpose whatsoever in connection with the production presently entitled: PINKK EVENT.
You understand that all photography, filming and/or recording will be done in reliance on this consent given by you by entering the event(s).
---